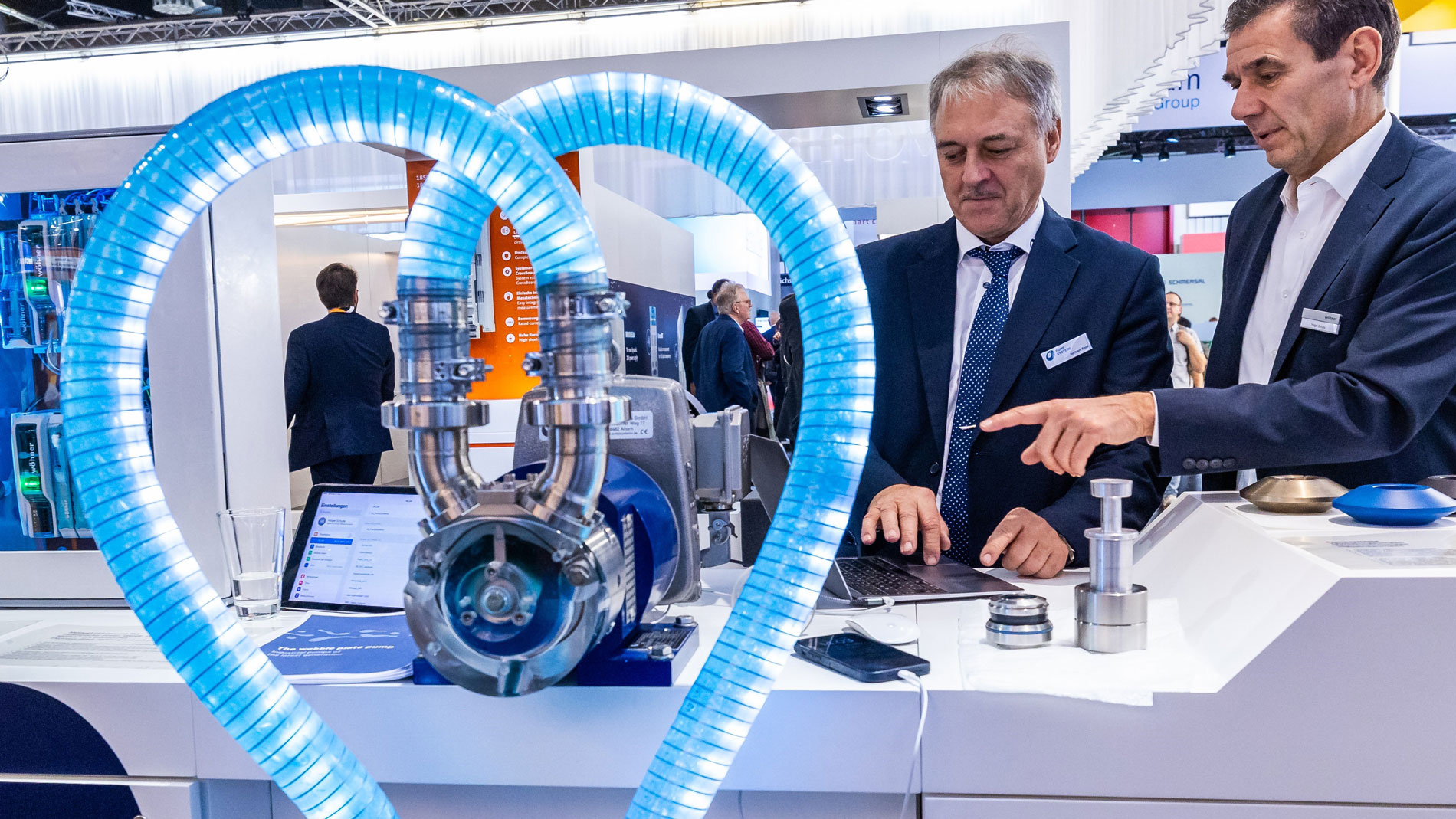 For the three days from 14 to 16 November 2023, the Exhibition Center Nuremberg opened its doors to the world of international automation. Trade visitors enjoyed a wide and diverse range of products, solutions, and innovations from the field of smart and digital automation across the 16 exhibition halls covering a total area of 128,000 m². Once again, the varied program of supporting events and the accompanying digital platform "SPS on air" were very well received by participants. 
A total of over 50,000 interested parties attended this year's SPS. 

Despite the nationwide train drivers' strike, which was called at short notice, and led to more difficult travel conditions on local and long-distance rail services, there was a significant increase in visitor numbers compared to the previous year. The visitors rubbed shoulders with the who's who of the automation industry and were able to find out about a range of topics including sensors, the cloud, current capabilities, and the latest trends and directions in smart automation. 1,229 exhibitors benefited from the fair as a platform to showcase their expertise, as well as a place for lively debate and inspiration. All with the goal in mind of enabling them to meet the challenges of today with the solutions of tomorrow. 
"Networked automation technology is the key to success. We are proud to have achieved results such as these with this year's SPS, and the figures speak for themselves. Due to the high demand from exhibiting companies, we preempted this positive growth by expanding exhibition halls to 3C and 8. This proved to be the right decision," explains Sylke Schulz-Metzner, Vice President SPS at Mesago Messe Frankfurt.

SPS 2023 program of supporting events reflected current trends
Once again, this year's SPS kicked off with a first-class conference program, with a wide selection of on-site and online events. These included cutting-edge specialist presentations, innovative product presentations, and practical panel discussions, allowing  participants to update their own specialist knowledge, identify new solutions for their everyday work, and network at an international level across three trade fair forums in Halls 3, 6, and 8. The topics ranged from digital transformation/Industry 4.0, industrial communication, safety & security, data-driven and intelligent concepts for control and visualization, and sensor innovations, to drives and sustainability through automation.

In addition to the classic automation topics of control technology, drive technology, and sensor technology, software & IT is becoming an increasingly important issue in manufacturing. As a result, attention is increasingly turning to the use of artificial intelligence and IT security in the automation world.

Joint stands pulled in the crowds

Visitors also flocked to the three joint stands at this year's trade fair. The ever-popular joint stand "Automation meets IT" was a hit, as were the Federal Ministry for Economics Affairs and Climate Action (BMWK)'s promotional area and the Start-up Area, both new for this year's event. 

The joint stand "Automation meets IT" allowed visitors to update their understanding of issues such as IT management for manufacturing, cloud and edge-based solutions and services, security measures for manufacturing, IoT and AI-based solutions, and open source. For the first time, the Young Innovators funding program run by the Federal Ministry of Economics and Climate Protection (BMWK) gave innovative young companies the opportunity to exhibit at the SPS. Another new addition, the Start-up Area, gave young talent a platform to showcase their solutions and products to an international audience. 

An ongoing success story: the complementary online event "SPS on air" 

This year's ticket holders once again had the opportunity to take part in a live, pre-heat event via the digital platform "SPS on air" a week before the start of the event, giving them a taste of what to expect on-site. This allowed attendees to prepare more effectively for their visit, to find out about specific exhibitor highlights in advance, and thus initiate new business contacts. The entire "SPS on air" program consists of live-streamed contributions from the Technology Stage powered by VDMA/ZVEI in Hall 3 and will also be available on-demand after the trade fair until 31 December 2023. 

Outlook

A detailed exhibition analysis including further results from the SPS 2023 will be available in early 2024. Next year's exhibition will be held in Nuremberg on 12 – 14 November 2023. In addition, from 2024, the SPS community can expect a diverse and, above all, year-round range of new communications platforms. These will include the SPS Technology Talks digital event series, dedicated expert newsletters, and the SPS CareerDrive platform, where suppliers and users can network. For more information, please visit www.sps-exhibition.com.

Statements on the SPS 2023
Steffen Winkler, CSO of the Automation Business Unit of Bosch Rexroth AG and Chair of the SPS Exhibitor Advisory Board:

"The SPS is, as ever, regarded as the leading industry event for automation. The trade fair sets the pace for the market and is the highlight of the year. In 2023, the SPS successfully once again attained its pre-corona level. But that's not all: as the only industrial trade fair that brings the topic of automation to all relevant regions of the world under one brand, it is now taking a logical step and expanding into the USA. It is a great honor for me as Chairman of the Exhibitor Advisory Board to be involved in driving this leading automation platform forward and to be part of its success story."
Marcus Bliesze, Vice President Marketing Factory Automation, Siemens AG: 

"The SPS was the first trade fair I ever attended in my professional life and that's why it holds a very special significance for me. I was particularly touched by the moment when, after the corona break, all the emotions of a trade fair came together in a personal dialog at the reopening. And this feeling continues to this day. I am just as excited about the SPS 2023 as I was last year. One reason is the great response from trade visitors. This year, the interest in engaging in personal dialog with us was even greater than usual. We noticed that talking in depth about solutions, in particular, is becoming increasingly relevant. These lively discussions motivate and inspire. Not only the customers, but also us."
Ulrich Leidecker, COO Phoenix Contact:

"For me, the SPS is easy to describe in three words: Dynamic, innovative, partnership-based. The clear dynamism, high density of innovation and partnership-based connections can be felt everywhere at the trade fair and, are a key success factor in my view. I've been an exhibitor at SPS for around 15 years and wouldn't want to miss being part of the automation community's big meet and greet every year!"
Susanne Kunschert, Co-Managing Director, Pilz GmbH & Co. KG:

"This year's SPS was once again a meeting place and a real highlight for us. Pilz has been represented at this event for 32 years and it is a special gift and a great pleasure for us. We particularly appreciate the lively exchange on-site, discussing automation topics together and thinking outside the box. It is precisely these encounters at the SPS that give rise to innovations and ideas that drive our daily work forward."
About Mesago Messe Frankfurt

Mesago, founded in 1982 and located in Stuttgart, specializes in exhibitions and conferences on various topics of technology. The company belongs to the Messe Frankfurt Group. Mesago operates internationally and is not tied to a specific venue. With around 150 members of staff, Mesago organizes events for the benefit of more than 3,300 exhibitors and over 110,000 trade visitors, conference delegates, and speakers from all over the world. Numerous trade associations, publishing houses, scientific institutes, and universities work closely with Mesago as advisers, co-organizers, and partners. (mesago.com)
Background information on Messe Frankfurt
The Messe Frankfurt Group is one of the world's leading trade fair, congress, and event organizers with their own exhibition grounds. With a workforce of some 2,160 people at its headquarters in Frankfurt am Main and in 28 subsidiaries, it organises events around the world. Group sales in the financial year 2022 were around €454 million. We serve our customers' business interests efficiently within the framework of our Fairs & Events, Locations, and Services business fields. One of Messe Frankfurt's key strengths is its powerful and closely knit global sales network, which covers around 180 countries in all regions of the world. Our comprehensive range of services, both onsite and online, ensures that customers worldwide enjoy consistently high quality and flexibility when planning, organizing, and running their events. We are using our digital expertise to develop new business models. The wide range of services includes renting exhibition grounds, trade fair construction and marketing, personnel, and food services.
Sustainability is a central pillar of our corporate strategy. Here, we strike a healthy balance between ecological and economic interests, social responsibility, and diversity.
For more information, please visit our website at: www.messefrankfurt.com/sustainability
With its headquarters in Frankfurt am Main, the company is owned by the City of Frankfurt (60 percent) and the State of Hesse (40 percent).
For more information, please visit our website at: www.messefrankfurt.com