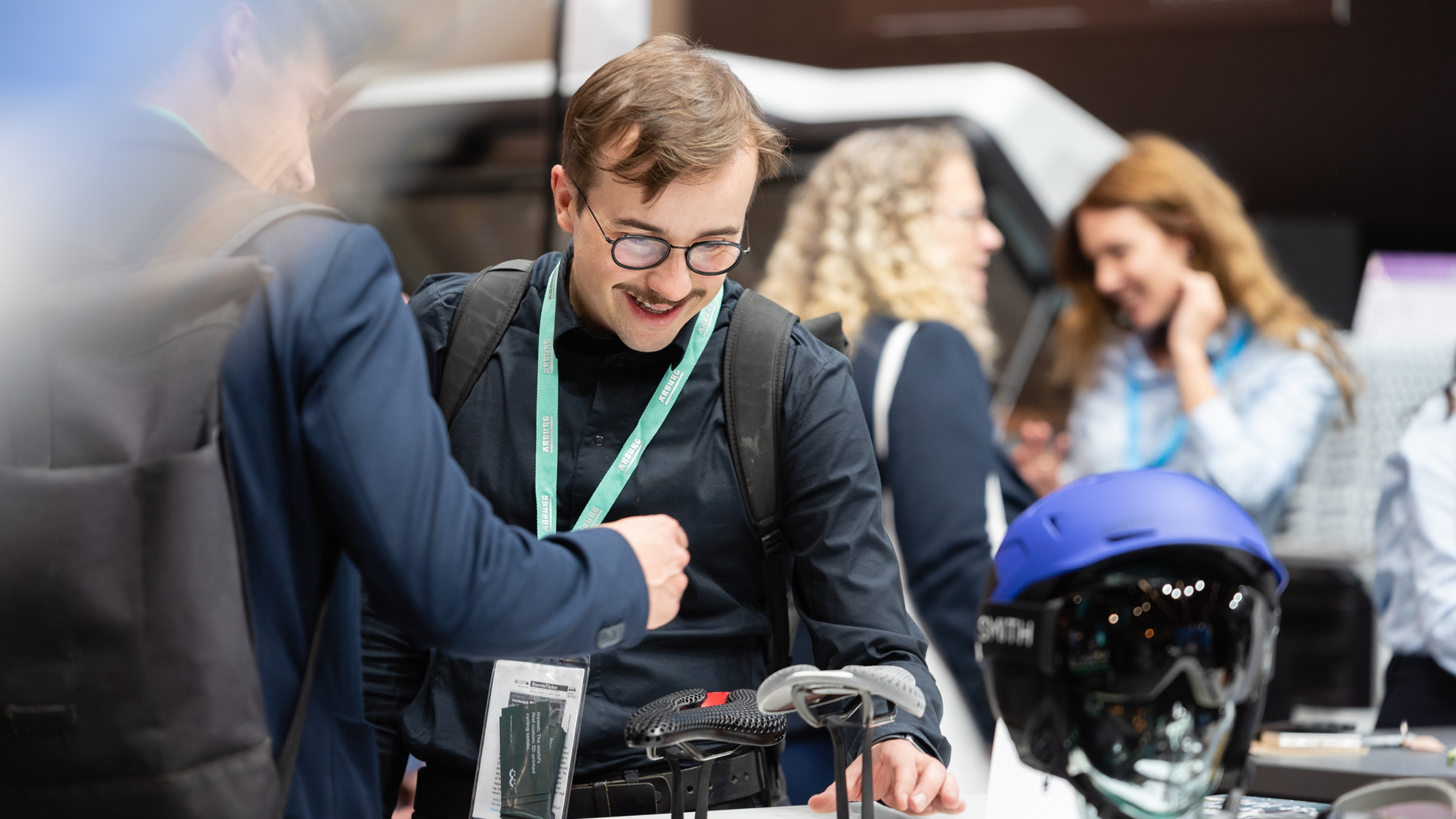 Contrary to the rather restrained economic development in most industrialized countries, Formnext is enjoying excellent registration figures, thus reflecting the dynamic development of the AM industry.
"Even in economically challenging times, Additive Manufacturing is taking on a prominent role in advancing the development of industrial production", Sascha F. Wenzler, Vice President of Formnext at event organizer Mesago Messe Frankfurt GmbH eagerly states. "That's because state-of-the-art manufacturing methods like industrial 3D Printing can give companies a real competitive edge. A visit to Formnext can show you how this can be achieved – and you will find the right partners there to help you realize your goals."
Visitors can look forward to multiple innovations and world premieres at Formnext from November 7 to 10, 2023. Anyone who would like to register as a visitor can still benefit from the attractive early bird discount up until 10 October (www.formnext.com/tickets).
Renowned AM suppliers from around the globe as well as numerous start-ups and established industrial companies will cover the entire additive manufacturing process – including materials, software, design, hardware, production solutions, post-processing and quality assurance.
The already very high number of international exhibitors has increased even further to more than 60 percent, attracting professionals from the manufacturing industry around the globe. Numerous joint stands underline Formnext's global reach: in addition to the established presences of Hessen Trade and Invest, Bayern Innovativ, Berlin Partner or the Chemnitz Chamber of Industry and Commerce, the number of international collaborations is increasing and will include, for the first time, Canada Makes, Nordic Pavilion and Victoria Government from Australia. 
Special showcase "Service Provider Marketplace"
One of the highlights of this year's supporting program is the "Service Provider Market Place". This showcase, organized in collaboration with Daimler Truck and Buses, celebrates its premiere at Formnext this year. AM service providers will present applications exemplary from the automotive sector illustrating how Additive Manufacturing can be deployed successfully and which role service providers play in the process. Additionally, well-known automotive companies such as Daimler Buses or Brose will showcase how they are using Additive Manufacturing in their production.
Focus on sustainability: partner region Nordic
This year's Formnext partner region is the Nordic region. Denmark, Sweden, Norway and Finland are home to globally leading manufacturers of AM equipment and material suppliers as well as a large number of innovative start-ups and medium-sized AM companies. At the same time, the region in northern Europe is a leader in sustainable thinking and will also present innovative solutions in this field at Formnext. Several delegations from the Nordic region have also announced their attendance. There is a great deal of interest in Additive Manufacturing as well as tremendous potential for its development in industries such as oil and gas, fish farming and processing, boat building and others.
Advanced conference concept available to all
Formnext has also made advances in its conference concept. This year, for the first time, the presentation program will be spread across three stages (Industry Stage, Application Stage, Technology Stage) in the exhibition halls. The different focal points cover important AM trends, applications and innovations from exhibitors and help visitors to find the right product or service conveniently and efficiently. In this way, Formnext will further promote important communication between technology providers and users, and make the content publicly available to all stakeholders in the halls.
Extended, diverse supporting program
The supporting program of Formnext 2023 includes very popular, established events with new elements. The Formnext Start-up Challenge is being held for the ninth time and rewards innovative and viable business ideas from young companies. The exhibitors in the Start-up Area will present themselves in short sessions as part of the Pitchnext event.
On the Career Day on November 9, prospective job applicants can find out about career opportunities in the AM industry while also getting job advice and having a CV photo taken. For companies looking to enter the AM industry, the well-established and daily Discover3Dprinting seminars, held in cooperation with ACAM, offer excellent insight and advice.
The Working Group AM at VDMA will be presenting a showcase with valuable AM applications from the world of mechanical engineering. The BE-AM showcase will be making use of real-life applications to demonstrate advanced developments in the increasingly important issue of 3D Printing in the construction industry. At the same time, the BE-AM Symposium will be presenting numerous background scenarios and future developments in this field.

The issue of standards, which is important to the entire AM industry and users, will again be discussed by experts and decision-makers from all over the world at the renowned ASTM Standards Forum, which will be held in cooperation with the organizations USCS, ASTM, ISO and America Makes one day before the start of the trade show, on Monday, 6 November 2023.
More information at www.formnext.com
Background information on Formnext
Formnext is the hub for Additive Manufacturing, industrial 3D Printing and the next generation of intelligent manufacturing solutions. In addition to the annual highlight, the expo in Frankfurt/Germany, we provide our clients worldwide with a variety of relevant updates, insights and events around Additive Manufacturing (AM) as well as the related technologies along the entire process chains. Formnext is organized by Mesago Messe Frankfurt GmbH (formnext.com).
About Mesago Messe Frankfurt
Mesago, founded in 1982 and located in Stuttgart, specializes in exhibitions and conferences on various topics of technology. The company belongs to the Messe Frankfurt Group. Mesago operates internationally and is not tied to a specific venue. With around 150 members of staff Mesago organizes events for the benefit of more than 3,300 exhibitors and over 110,000 trade visitors, conference delegates and speakers from all over the world. Numerous trade associations, publishing houses, scientific institutes and universities work with Mesago closely as advisers, co-organizers and partners. (mesago.com)
Background information on Messe Frankfurt
The Messe Frankfurt Group is one of the world's leading trade fair, congress and event organisers with their own exhibition grounds. With a workforce of some 2,160 people at its headquarters in Frankfurt am Main and in 28 subsidiaries, it organises events around the world. Group sales in financial year 2022 were around €454 million. We serve our customers' business interests efficiently within the framework of our Fairs & Events, Locations and Services business fields. One of Messe Frankfurt's key strengths is its powerful and closely knit global sales network, which covers around 180 countries in all regions of the world. Our comprehensive range of services – both onsite and online – ensures that customers worldwide enjoy consistently high quality and flexibility when planning, organising and running their events. We are using our digital expertise to develop new business models. The wide range of services includes renting exhibition grounds, trade fair construction and marketing, personnel and food services.
Sustainability is a central pillar of our corporate strategy. Here, we strike a healthy balance between ecological and economic interests, social responsibility and diversity.
For more information, please visit our website at: www.messefrankfurt.com/sustainability
With its headquarters in Frankfurt am Main, the company is owned by the City of Frankfurt (60 percent) and the State of Hesse (40 percent).
For more information, please visit our website at: www.messefrankfurt.com
Background information on the Working Group Additive Manufacturing (Honorary Sponsor)
Within the Working Group Additive Manufacturing, about 200 companies and research institutes collaborate under the direction of the German industry federation VDMA. Here, plant engineers; component and material suppliers; industrial companies that work with metals and plastics; service providers in software, manufacturing, and processing; and numerous researchers all work toward the same goal: the industrialization of additive manufacturing techniques. (am.vdma.org)