A permanent fixture on the international AM calendar, Formnext has been providing the perfect platform for businesses to present themselves to customers, partners, and potential investors for 8 years. Winning the Formnext Start-up Challenge has given an important boost to the market entry of a number of internationally successful companies, including 3Yourmind, Dyemansion, Kumovis, Sinterit, Spectroplast, Trinckle 3D, Xioneer, and many more.
Co-founder of Kumovis, Dr. Miriam Haerst, concurs: "The visibility is extremely helpful. You also get direct feedback from the market, which may not always be comfortable. Ultimately, though, it gives you an opportunity to keep developing and perfecting your product."

The foundation for sustainable growth and further development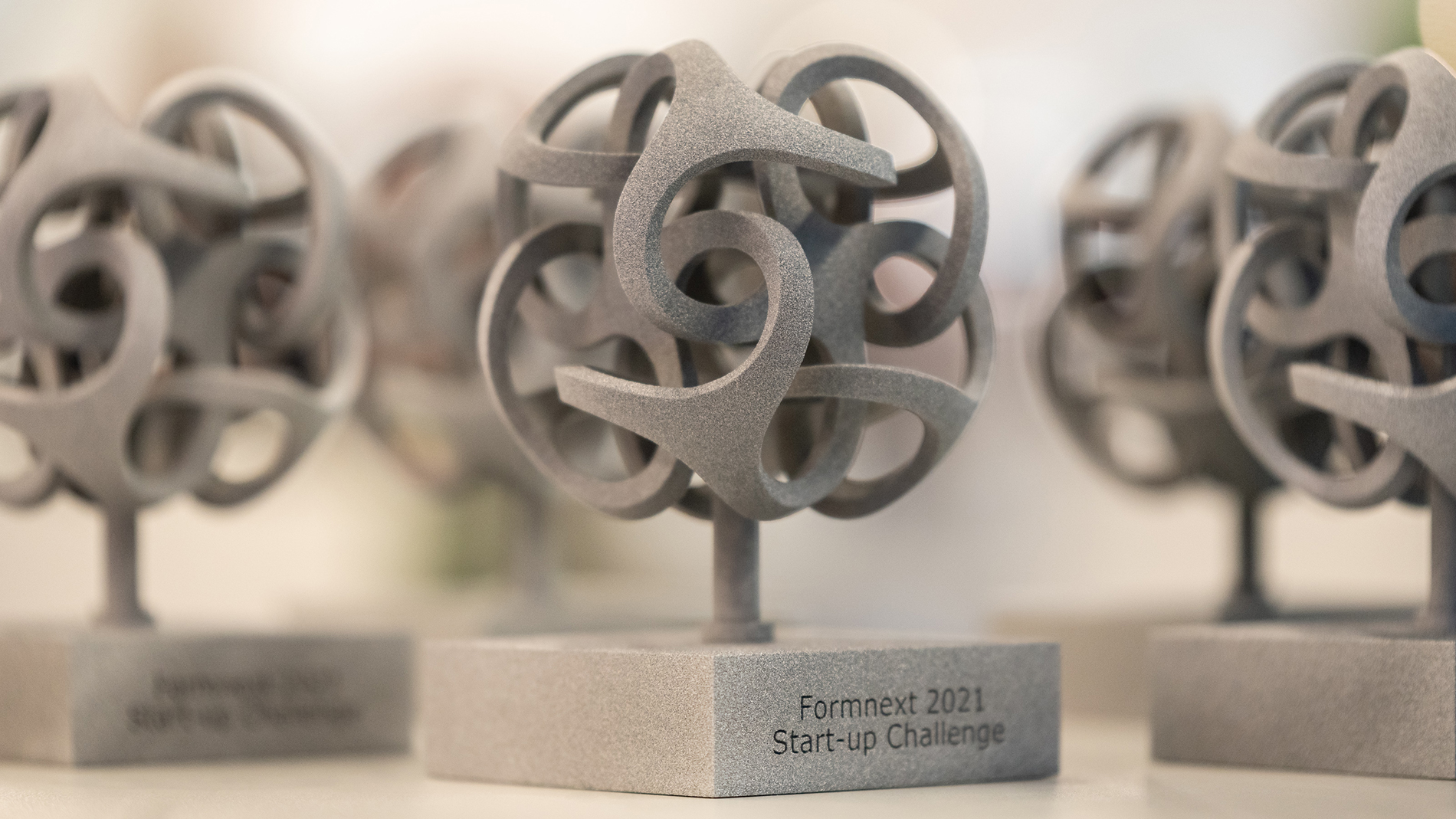 "The experience of the past years has clearly shown how important it is for young and innovative companies to present their business ideas and developments to an international audience of industry professionals. A dedicated event such as Formnext provides the perfect environment in which to establish and maintain business relationships with customers and partners, as well as explore potential investments," says Sascha F. Wenzler, Vice President Formnext at exhibition organizer Mesago Messe Frankfurt GmbH. "Winning the Start-up Challenge gives 5 entrepreneurs the opportunity to appear at Formnext. It always gives me great pleasure to help contribute to the laying of these foundations for sustainable company growth," adds Wenzler.
In addition to the 3D-printed award, the five winners will each receive an impressive Formnext exhibition and marketing package, which includes, among other things, a fully equipped exhibition booth in the Formnext 2022 Start-up Area and inclusion in all relevant and worldwide Formnext marketing and communication activities. In addition, the winners can participate in a pitch event as part of Formnext, receive an individual company profile from a media sponsor as well as corporate coaching from a member of the judging panel.
The international panel of high-profile representatives from all corners of the industry comprises Dr. Kristian Arntz (CEO, Fraunhofer Center for Networked Adaptive Production ICNAP), Stefanie Brickwede (Project Manager, 3d Printing@DB and Managing Director, Mobility goes Additive network), Arno Held (Managing Partner, AM Ventures), Alexander Oster (Director of Additive Manufacturing, Autodesk), Michael Petch (Editor in Chief, 3Dprintingindustry.com), and Peter Mayr (Professor of Additive Manufacturing Materials Technology, Technical University of Munich).

AM Ventures Impact Award 2022
For the third time, a company with a particularly sustainable approach will receive the AM Ventures Impact Award as part of the Start-up Challenge. "With this award, we want to give the topic of sustainability the attention it deserves as part of the Start-up Challenge," explains Arno Held, Managing Partner at AM Ventures. "We encourage all entrepreneurs to present us their approaches for a sustainable world." In its evaluation, AM Ventures is guided by the United Nations' Sustainable Development Goals (SDGs). All participants of the Formnext Start-up Challenge are automatically entered into the competition. The winner will receive prize money of €5,000 and the opportunity to present themselves to the Formnext audience in a pitch.
Any up-and-coming company with a product or service that is market-ready in terms of customers, product status, and revenue can take part in the Formnext Start-up Challenge, provided the start-up is not majority-owned by an established company and was founded after 1 January 2017.
For more information, visit www.formnext.de/startup.
Formnext event dates:
Formnext: 15-18 November 2022, Frankfurt am Main, Germany
Related international events for innovative industrial manufacturing:
Formnext + PM South China: 14-16 September 2022, Shenzhen, China 

Formnext Forum Tokyo: 27-28 September 2022, Tokyo, Japan 

Asiamold: 1-3 March 2023, Guangzhou, China
Background information on Formnext  
Formnext is the leading trade fair for Additive Manufacturing and the next generation of intelligent manufacturing solutions. It focuses on the efficient realization of parts and products, from their design to serial production. Formnext shows the future of innovative manufacturing. Formnext is organized by Mesago Messe Frankfurt GmbH. (formnext.com)
About Mesago Messe Frankfurt
Mesago, founded in 1982 and located in Stuttgart, specializes in exhibitions and conferences on various topics of technology. The company belongs to the Messe Frankfurt Group. Mesago operates internationally and is not tied to a specific venue. With around 150 members of staff Mesago organizes events for the benefit of more than 3,300 exhibitors and over 110,000 trade visitors, conference delegates and speakers from all over the world. Numerous trade associations, publishing houses, scientific institutes and universities work with Mesago closely as advisers, co-organizers and partners. (mesago.com)
Background information on Messe Frankfurt
The Messe Frankfurt Group is the world's largest trade fair, congress and event organiser with its own exhibition grounds. The Group employs approximately 2,450 people at its headquarters in Frankfurt am Main and in 29 subsidiaries around the world. The company generated annual sales of approximately €257 million in 2020 after having recorded sales of €736 million the previous year. Even in difficult times caused by the coronavirus pandemic, we are globally networked with our industry sectors. We have close ties with our industry sectors and serve our customers' business interests efficiently within the framework of our Fairs & Events, Locations and Services business fields. One of the Group's key USPs is its closely knit global sales network, which extends throughout the world. Our comprehensive range of services – both onsite and online – ensures that customers worldwide enjoy consistently high quality and flexibility when planning, organising and running their events. We are expanding our digital expertise with new business models. The wide range of services includes renting exhibition grounds, trade fair construction and marketing, personnel and food services. Headquartered in Frankfurt am Main, the company is owned by the City of Frankfurt (60 percent) and the State of Hesse (40 percent).
For more information, please visit our website at: www.messefrankfurt.com
Background information on TCT (Content Partner)
Established in 1992, TCT Group's mission is to accelerate design-to-manufacturing innovation. Through global trade shows, conferences, magazines, websites and digital products TCT delivers business-critical insights on the technologies that help manufacturers make better products, more quickly and cost-effectively. Through the TCT Awards TCT celebrates the most innovative products and applications across the design-to-manufacturing process chain. The TCT Group is owned by Rapid News Publications Ltd, part of Rapid News Group. (thetctgroup.com)
Background information on the Working Group Additive Manufacturing (Honorary Sponsor)
Within the Working Group Additive Manufacturing, about 170 companies and research institutes collaborate under the direction of the German industry federation VDMA. Here, plant engineers; component and material suppliers; industrial companies that work with metals and plastics; service providers in software, manufacturing, and processing; and numerous researchers all work toward the same goal: the industrialization of additive manufacturing techniques. (am.vdma.org)