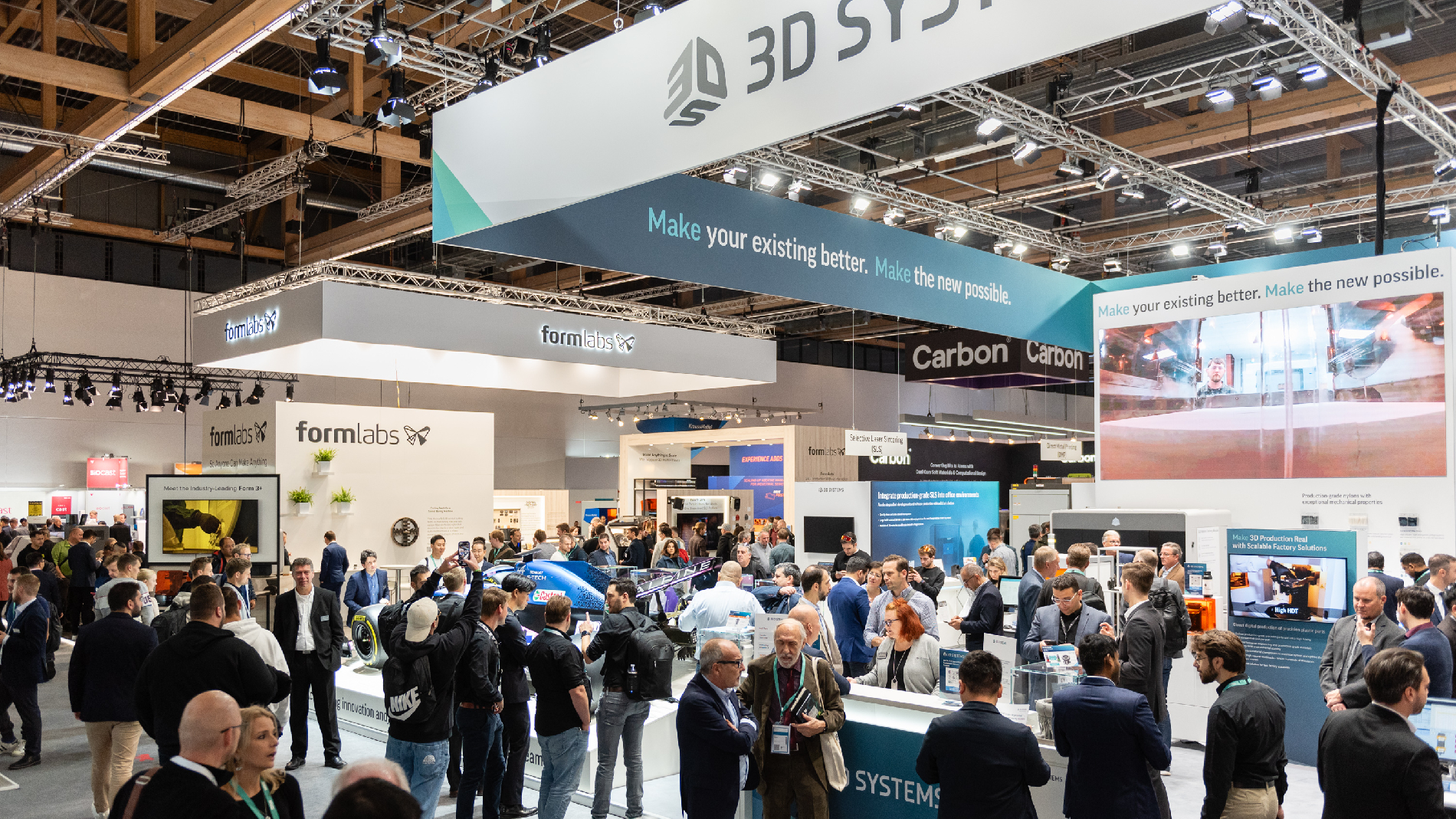 Formnext continued to write its success story into 2023, again demonstrating the relevance of Additive Manufacturing processes. In its ninth year, the Formnext exhibition welcomed 32,851 specialists and managers (50% international), representing a further increase of 11,1% on the impressive numbers already recorded for the previous year.
With 859 exhibitors (59% of which were international), it proved to be another record year for Formnext. The exhibitors, varied events, and special shows demonstrated the wide range of possibilities offered by Additive Manufacturing for numerous user industries, including medical technology, automotive and mechanical engineering, architecture, and aerospace. Visitors were able to discover innovative solutions that they could use to make their own production more efficient and sustainable.
The latest next-level developments in industrial 3D Printing were also on display. Exhibitors presented robotic 3D Printing systems for plastics, for instance, which can even be used to print entire boats. While in metals, companies such as AMCM, Eplus3D, InssTek and others demonstrated that highly complex components weighing several tons, such as rocket engines, can be manufactured in one piece using precision AM. In nanotechnology, exhibitors such as BMF and Nano Dimension presented new solutions that can be used, for example, for the 3D printing of electronic components and much more and will make numerous new applications and products possible in the future. The high level of innovation at Formnext was also demonstrated by established players and young start-ups alike, including Bosch, D3-AM, Reinforce 3D and Venox Systems, which presented the latest Additive Manufacturing technologies. 
An impressive track record
"Sascha F. Wenzler, Vice President for Formnext at event organizer Mesago Messe Frankfurt GmbH summarizes "With the unparalleled concentration of innovations, decision makers, and AM experts, the event offered a unique trade fair experience. In the context of an extremely dynamic sector Formnext provides a roadmap for the evolution of cutting-edge manufacturing industries."
Visitors were also impressed by Formnext's development and the sheer number of innovations on show:
Mahdi Bodaghi, Senior Lecturer from the Department of Engineering at Nottingham Trent University and director of the 4D Materials & Printing Lab states: "I really enjoyed being at Formnext. I've seen a lot of AM technologies and it has been fantastic to see that a lot of them have been translated to the needs of companies as well as society. I can see high impact generated by AM."
"That's the place to be to see the improvements in the AM market. Here at Formnext we are able to explore and review all the various systems and materials efficiently in one place. That gives us the opportunity to find and select the most suitable solutions for our production," commented Chip Gear, CEO The Technology House.
A broad and varied program of supporting events
The supporting events at Formnext 2023 were more diverse than ever, focusing on a wide range of user industries, from automotive and construction through to mechanical engineering. The new service provider marketplace put the spotlight on the special role of service providers in expanding the AM user base. The new multi-stage concept was extremely well received and showcased AM applications, technologies, and innovations while providing a platform for discussions on industry-relevant topics such as sustainability, cybersecurity, and investments.
A strong international flavor
With a remarkably high proportion of international visitors (50%), Formnext once again demonstrated its credentials as the leading international exhibition for Additive Manufacturing and modern industrial production. Exhibitors also praised the impressive volume of visitor traffic and the high standard of discussions:
"This is the first time we exhibited at Formnext with 3D-Werk and we are thrilled! The quality and quantity of the discussions we've had and the new contacts we've been able to make exceeded our expectations - especially considering the current economic situation. You can see here that Additive Manufacturing is still on the rise!" comments Gerhard Duda, CEO and founder of 3D-Werk Black Forest GmbH.
Robin Bappert and Christof Dratner, Cunova stated: "Formnext was overwhelming for us in every respect! The sheer amount of innovations here and the many valuable discussions we were able to have with potential customers... We realized here that a completely new market is opening up for us in Additive Manufacturing and now see even more potential for us to fully enter the supply chain as a powder supplier."
Daniele Grosso, Marketing Manager Prima Additive enthused: "We generated a high number of contacts, we are happy about the frequency and quality of visitors that came to our booth. People have more and more knowledge about the technology, they are asking technical questions and are more and more likely to take decisions in their companies."
Mitch Debora, Co-founder and CEO Mosaic added: "We wanted to bring 3D Printing to the factory floor and announced the shipping of our Array system. Therefore, we met the right partners from all over the world. The interest was overwhelming; at our booth we had lots of people with buying power."
Stay up to date even after the event with Formnext streAM
Content from the stage program will continue to be available on demand even after the event on Formnext streAM (www.formnext.com/stream). Until the end of November, contacts made during the event can be cultivated online and discussions continued. 
Next year, Formnext is scheduled to take place from 19 to 22 November 2024 in Frankfurt am Main.
2023 figures at a glance:
Exhibition space: 54,000 m²
Exhibitors: 859
Visitors: 32,851
Formnext's portfolio of international events includes:
Formnext + PM South China: 28 – 30 August 2024
Formnext Forum Tokyo: 26 – 27 September 2024
Formnext at IMTS Chicago: 9 – 14 September 2024
Formnext Chicago: 8 – 10 April 2025
Further information is available at www.formnext.com.
Background information on Formnext

Formnext is the hub for Additive Manufacturing, industrial 3D Printing and the next generation of intelligent manufacturing solutions. In addition to the annual highlight, the expo in Frankfurt/Germany, we provide our clients worldwide with a variety of relevant updates, insights and events around Additive Manufacturing (AM) as well as the related technologies along the entire process chains. Formnext is organized by Mesago Messe Frankfurt GmbH (formnext.com).
About Mesago Messe Frankfurt
Mesago, founded in 1982 and located in Stuttgart, specializes in exhibitions and conferences on various topics of technology. The company belongs to the Messe Frankfurt Group. Mesago operates internationally and is not tied to a specific venue. With around 150 members of staff Mesago organizes events for the benefit of more than 3,300 exhibitors and over 110,000 trade visitors, conference delegates and speakers from all over the world. Numerous trade associations, publishing houses, scientific institutes and universities work with Mesago closely as advisers, co-organizers and partners. (mesago.com)
Background information on Messe Frankfurt
The Messe Frankfurt Group is one of the world's leading trade fair, congress and event organisers with their own exhibition grounds. With a workforce of some 2,160 people at its headquarters in Frankfurt am Main and in 28 subsidiaries, it organises events around the world. Group sales in financial year 2022 were around €454 million. We serve our customers' business interests efficiently within the framework of our Fairs & Events, Locations and Services business fields. One of Messe Frankfurt's key strengths is its powerful and closely knit global sales network, which covers around 180 countries in all regions of the world. Our comprehensive range of services – both onsite and online – ensures that customers worldwide enjoy consistently high quality and flexibility when planning, organising and running their events. We are using our digital expertise to develop new business models. The wide range of services includes renting exhibition grounds, trade fair construction and marketing, personnel and food services.
Sustainability is a central pillar of our corporate strategy. Here, we strike a healthy balance between ecological and economic interests, social responsibility and diversity.
For more information, please visit our website at: www.messefrankfurt.com/sustainability
With its headquarters in Frankfurt am Main, the company is owned by the City of Frankfurt (60 percent) and the State of Hesse (40 percent).
For more information, please visit our website at: www.messefrankfurt.com
Background information on the Working Group Additive Manufacturing (Honorary Sponsor)
Within the Working Group Additive Manufacturing, about 200 companies and research institutes collaborate under the direction of the German industry federation VDMA. Here, plant engineers; component and material suppliers; industrial companies that work with metals and plastics; service providers in software, manufacturing, and processing; and numerous researchers all work toward the same goal: the industrialization of Additive Manufacturing techniques. (am.vdma.org)