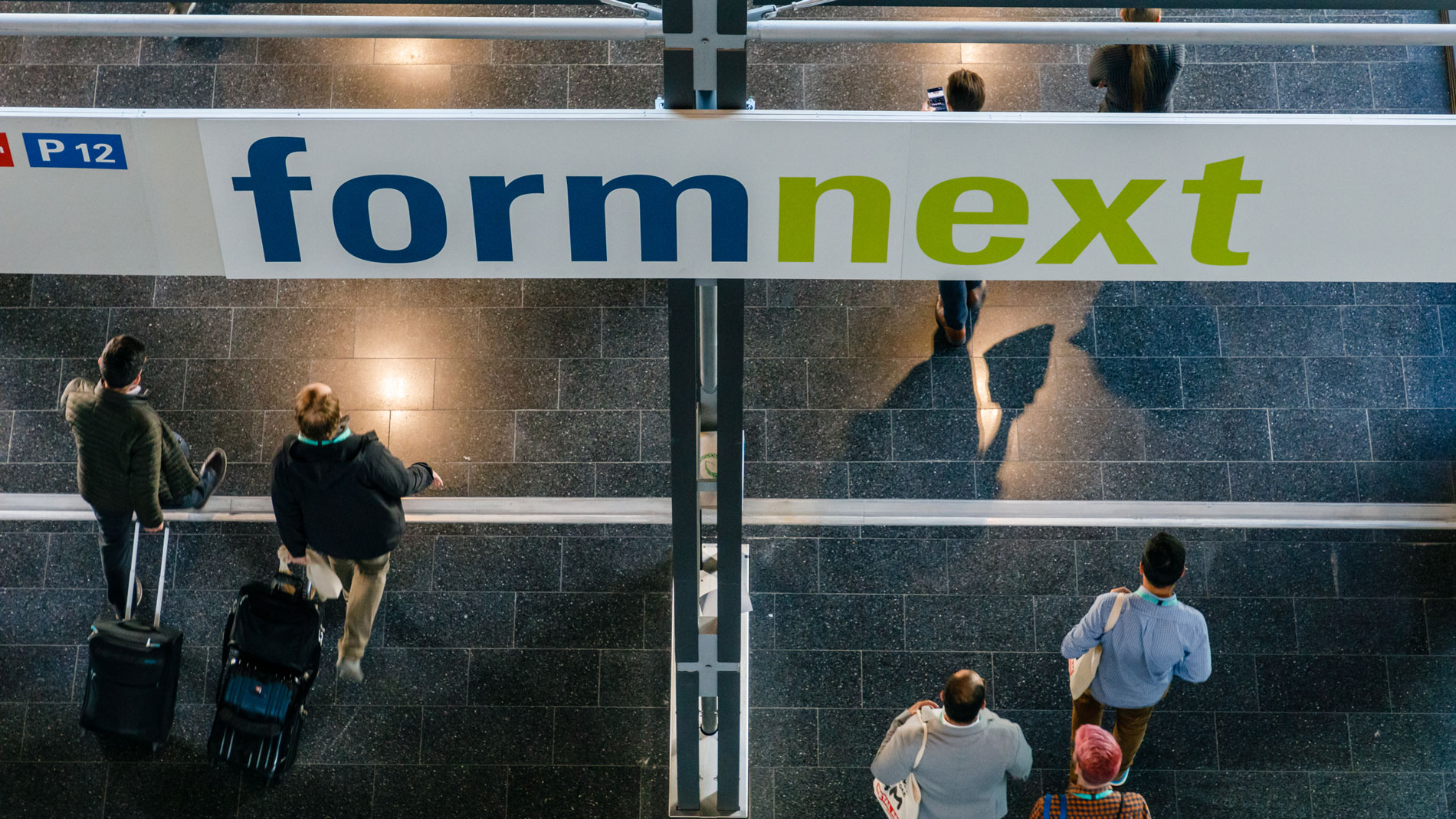 At the exhibition, the partner region will be showcasing the economic potential of the Northern European AM industry as well as shining a spotlight on sustainability – with a particular focus on energy and material efficiency. The lead partner, Danish AM Hub, will be joined by the Finnish Additive Manufacturing Ecosystem (FAME) and Norwegian AM, the Additive Manufacturing Cluster, Norway.
Joining the around 660 exhibitors already registered for Formnext 2023, which looks set to be a record year for exhibitor numbers, will be around two dozen exhibitors from the Nordic countries. The Nordic contingent will be based at the Nordic pavilion, where a special showcase of exhibits of successful AM applications is also planned. As part of the program of supporting events, major companies from the partner region will be presenting inspiring AM use cases, and the Danish AM Hub will be hosting a panel on sustainability. Several delegations from the Nordic region are also planning to visit Formnext 2023 to further promote the industrial application of AM through active exchange and expansion of their networks.
Sascha F. Wenzler, Vice President Formnext at event organizer Mesago Messe Frankfurt GmbH: "The Nordic region represents the ideal choice of partners for this year's event as the countries concerned are showing the world how to combine commercial viability with sustainability, and thus perfectly demonstrating how 3D Printing can play its part in establishing a responsible manufacturing industry."
Diverse manufacturers, world-famous user companies

The Danish companies will showcase a wide range of innovations along the entire AM process chain, including research & development, services, materials, and post-processing solutions. The young company Create it Real has, for example, developed a specialized solution for the orthopedics industry. Denmark also has a number of well-known companies that have been using 3D Printing for many years. Global enterprises, such as Lego, Danfoss or Grundfos, for example, are key users of AM.
The Finnish AM industry has strong links with the industry and will be bringing numerous service providers (3D Formtech, 3DStep, Delva), software suppliers, polymer 3D printer manufacturers, and companies from the research & development sector to Formnext. Sweden has long boasted a successful raw materials industry, and this is also reflected in the AM world with world-leading AM material manufacturers such as Sandvik and Höganäs. There will also be Swedish exhibitors from the entire process chain, presenting solutions for research & development, software, hardware, services, and post-processing.
As part of the Nordic partner region, Frank Rosengreen Lorenzen, CEO of the Danish AM Hub, welcomed the "recognition of the skilled and innovative Danish owner-managers, designers, engineers and manufacturers, who are continually challenging and expanding the scope of AM technology to design, develop and manufacture the products of the future." Lorenzen also noted that, over the past three years, the Danish AM Hub has focused on "how to make Denmark the most knowledgeable place in the world when it comes to the use of AM for more sustainable manufacturing."
A background to the AM industry in the Nordic partner region will be presented exclusively in a special edition of Formnext magazine, published at the end of August. Offering an additional foretaste of the exhibition will be Formnext's appearance at the AM Summit Copenhagen, which will be taking place on 21 September 2023.
Background information on Formnext  
Formnext is the hub for Additive Manufacturing, industrial 3D Printing and the next generation of intelligent manufacturing solutions. In addition to the annual highlight, the expo in Frankfurt/Germany, we provide our clients worldwide with a variety of relevant updates, insights and events around Additive Manufacturing (AM) as well as the related technologies along the entire process chains. Formnext is organized by Mesago Messe Frankfurt GmbH (formnext.com).
About Mesago Messe Frankfurt
Mesago, founded in 1982 and located in Stuttgart, specializes in exhibitions and conferences on various topics of technology. The company belongs to the Messe Frankfurt Group. Mesago operates internationally and is not tied to a specific venue. With around 150 members of staff Mesago organizes events for the benefit of more than 3,300 exhibitors and over 110,000 trade visitors, conference delegates and speakers from all over the world. Numerous trade associations, publishing houses, scientific institutes and universities work with Mesago closely as advisers, co-organizers and partners. (mesago.com)
Background information: Sustainable Messe Frankfurt 
The Messe Frankfurt Group is one of the world's leading trade fair, congress and event organisers with their own exhibition grounds. With a workforce of some 2,200* people at its headquarters in Frankfurt am Main and in 28 subsidiaries, it organises events around the world. Group sales in financial year 2022 were around €450 million*. We serve our customers' business interests efficiently within the framework of our Fairs & Events, Locations and Services business fields. One of Messe Frankfurt's key strengths is its powerful and closely knit global sales network, which covers around 180 countries in all regions of the world. Our comprehensive range of services – both onsite and online – ensures that customers worldwide enjoy consistently high quality and flexibility when planning, organising and running their events. We are using our digital expertise to develop new business models. The wide range of services includes renting exhibition grounds, trade fair construction and marketing, personnel and food services. 
Sustainability is a central pillar of our corporate strategy. Here, we strike a healthy balance between ecological and economic interests, social responsibility and diversity.
For more information, please visit our website at: www.messefrankfurt.com/sustainability
With its headquarters in Frankfurt am Main, the company is owned by the City of Frankfurt (60 percent) and the State of Hesse (40 percent). 
For more information, please visit our website at: www.messefrankfurt.com 
* Preliminary figures for 2022
Background information on the Working Group Additive Manufacturing (Honorary Sponsor)
Within the Working Group Additive Manufacturing, about 200 companies and research institutes collaborate under the direction of the German industry federation VDMA. Here, plant engineers; component and material suppliers; industrial companies that work with metals and plastics; service providers in software, manufacturing, and processing; and numerous researchers all work toward the same goal: the industrialization of additive manufacturing techniques. (am.vdma.org)