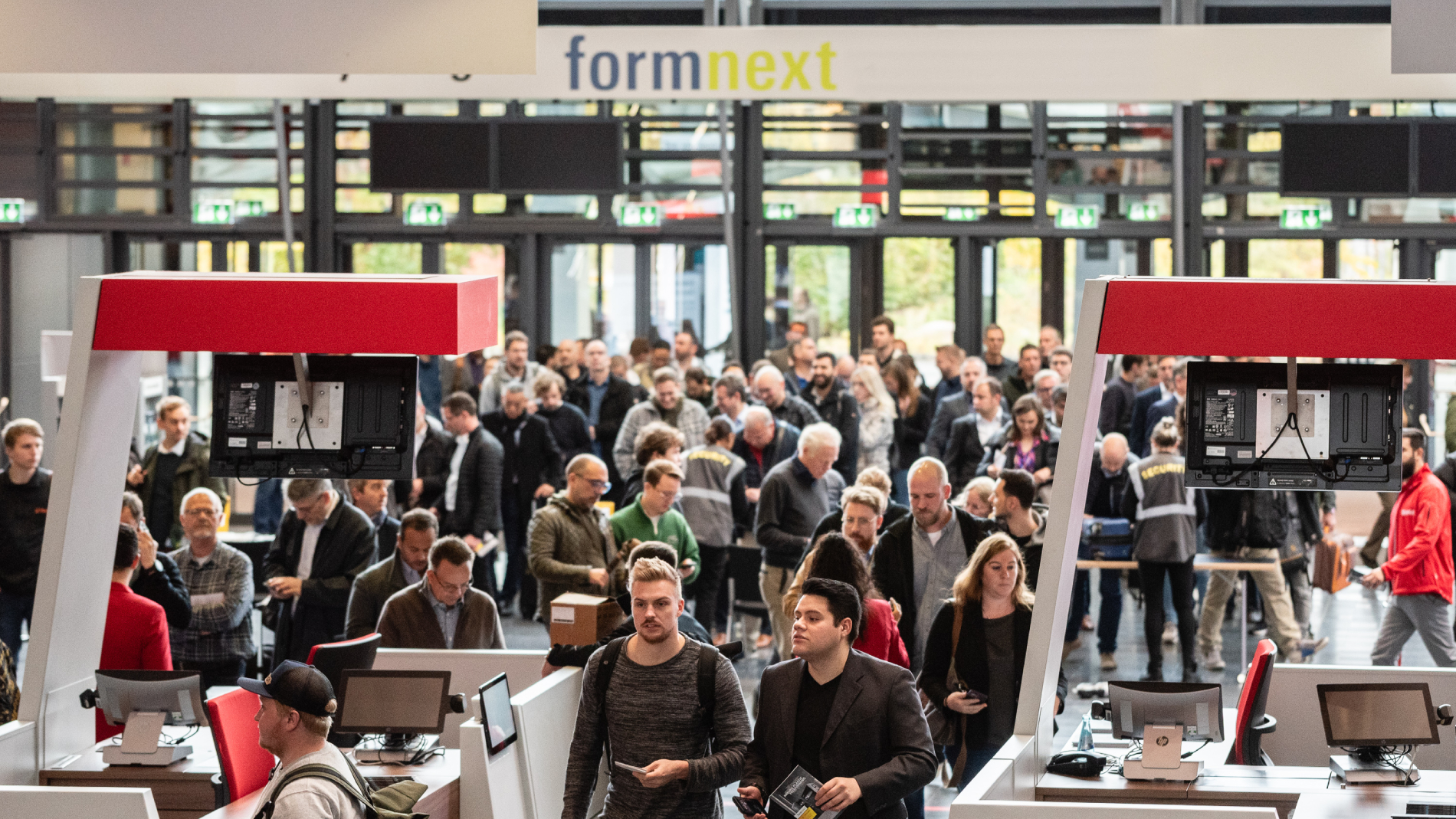 From the construction industry to the automotive industry, mechanical engineering to medical technology and arts: Formnext 2023 will showcase an unparalleled variety of applications and solutions for different industries. "Every industrial company that wants to operate competitively, innovatively, and sustainably well into the future should be getting to grips with Additive Manufacturing," says Sascha F. Wenzler, Vice President Formnext, Mesago Messe Frankfurt GmbH.
Formnext is the annual highlight for the AM world, bringing a community that is enthusiastic about technology and innovation – the "fAMily" – together in Frankfurt for four eventful and inspiring trade show days. At Formnext 2023, the international elite of the AM industry will present numerous world premieres, so visitors can not only take a look at the latest technologies, but they can also discuss future production solutions. In addition, exhibitors will showcase solutions along the entire process chain – from design, production, and materials right through to post-processing and quality assurance. "Only those who master the entire process with confidence can be successful with AM," says Wenzler. 
Unique program of supporting events
Formnext is set to provide exactly the right expertise and the perfect inspiration with a unique program of supporting events including a multistage conference program, numerous showcases, and much more. "Visitors will find a peerlessly comprehensive and forward-looking range of events at Formnext. Everyone, from AM professionals to beginners, should come to Frankfurt by Friday and benefit from this unique platform by expanding their knowledge, finding inspiration, and widening their network", explains Wenzler.
A highlight of the program of supporting events will be the premiere of the "Service Provider Marketplace" showcase, organized in cooperation with Daimler Truck & Buses. Well-known automotive companies such as Daimler Truck & Buses and Brose will use applications to show how they use AM and what role service providers play in this context.
This year's partner region Nordic will be presenting lots of solutions and innovations around the theme of "sustainability", while also demonstrating the economic potential of the AM industry in Denmark, Finland, Norway and Sweden.
Other highlights at this year's trade show:
Seminar for AM beginners "Discover3Dprinting": daily at 9:30 a.m., Hall 11.1-E69
Art Showcase AM Art Space: Hall 11.0-C18
BE-AM Showcase: Hall 11.0-F49
BE-AM Symposium: 8 November, 9 a.m. to 5 p.m., Portalhaus
Service Provider Marketplace: Hall 12.1-B101
Nordic Pavilion: Hall 11.0-D68
Start-up Areas: Hall 11.1-B55 and 12.0-B81
VDMA Additive4Industry Showcase: Hall 12.0-B01
Career Day: 9 November, hall 11.0-D71
Formnext streAM – the complementary digital offering
This year, Formnext will once again be offering a complementary digital platform. Interested parties will be able to view exhibitor products, connect with companies, and arrange meetings (in person or online) at Formnext streAM (www.formnext/stream). The platform will remain live until the end of November, providing a good opportunity to stay in touch even after the physical event. A special highlight of Formnext streAM is Formnext.TV, which gives viewers the chance to follow the events taking place on stage live and on demand.
Background information on Formnext
Formnext is the hub for Additive Manufacturing, industrial 3D Printing and the next generation of intelligent manufacturing solutions. In addition to the annual highlight, the expo in Frankfurt/Germany, we provide our clients worldwide with a variety of relevant updates, insights and events around Additive Manufacturing (AM) as well as the related technologies along the entire process chains. Formnext is organized by Mesago Messe Frankfurt GmbH (formnext.com)
About Mesago Messe Frankfurt
Mesago, founded in 1982 and located in Stuttgart, specializes in exhibitions and conferences on various topics of technology. The company belongs to the Messe Frankfurt Group. Mesago operates internationally and is not tied to a specific venue. With around 150 members of staff Mesago organizes events for the benefit of more than 3,300 exhibitors and over 110,000 trade visitors, conference delegates and speakers from all over the world. Numerous trade associations, publishing houses, scientific institutes and universities work with Mesago closely as advisers, co-organizers and partners. (mesago.com)
Background information on Messe Frankfurt
The Messe Frankfurt Group is one of the world's leading trade fair, congress and event organisers with their own exhibition grounds. With a workforce of some 2,160 people at its headquarters in Frankfurt am Main and in 28 subsidiaries, it organises events around the world. Group sales in financial year 2022 were around €454 million. We serve our customers' business interests efficiently within the framework of our Fairs & Events, Locations and Services business fields. One of Messe Frankfurt's key strengths is its powerful and closely knit global sales network, which covers around 180 countries in all regions of the world. Our comprehensive range of services – both onsite and online – ensures that customers worldwide enjoy consistently high quality and flexibility when planning, organising and running their events. We are using our digital expertise to develop new business models. The wide range of services includes renting exhibition grounds, trade fair construction and marketing, personnel and food services.
Sustainability is a central pillar of our corporate strategy. Here, we strike a healthy balance between ecological and economic interests, social responsibility and diversity.
For more information, please visit our website at: www.messefrankfurt.com/sustainability
With its headquarters in Frankfurt am Main, the company is owned by the City of Frankfurt (60 percent) and the State of Hesse (40 percent).
For more information, please visit our website at: www.messefrankfurt.com/frankfurt
Background information on the Working Group Additive Manufacturing (Honorary Sponsor)
Within the Working Group Additive Manufacturing, about 200 companies and research institutes collaborate under the direction of the German industry federation VDMA. Here, plant engineers; component and material suppliers; industrial companies that work with metals and plastics; service providers in software, manufacturing, and processing; and numerous researchers all work toward the same goal: the industrialization of additive manufacturing techniques. (am.vdma.org)