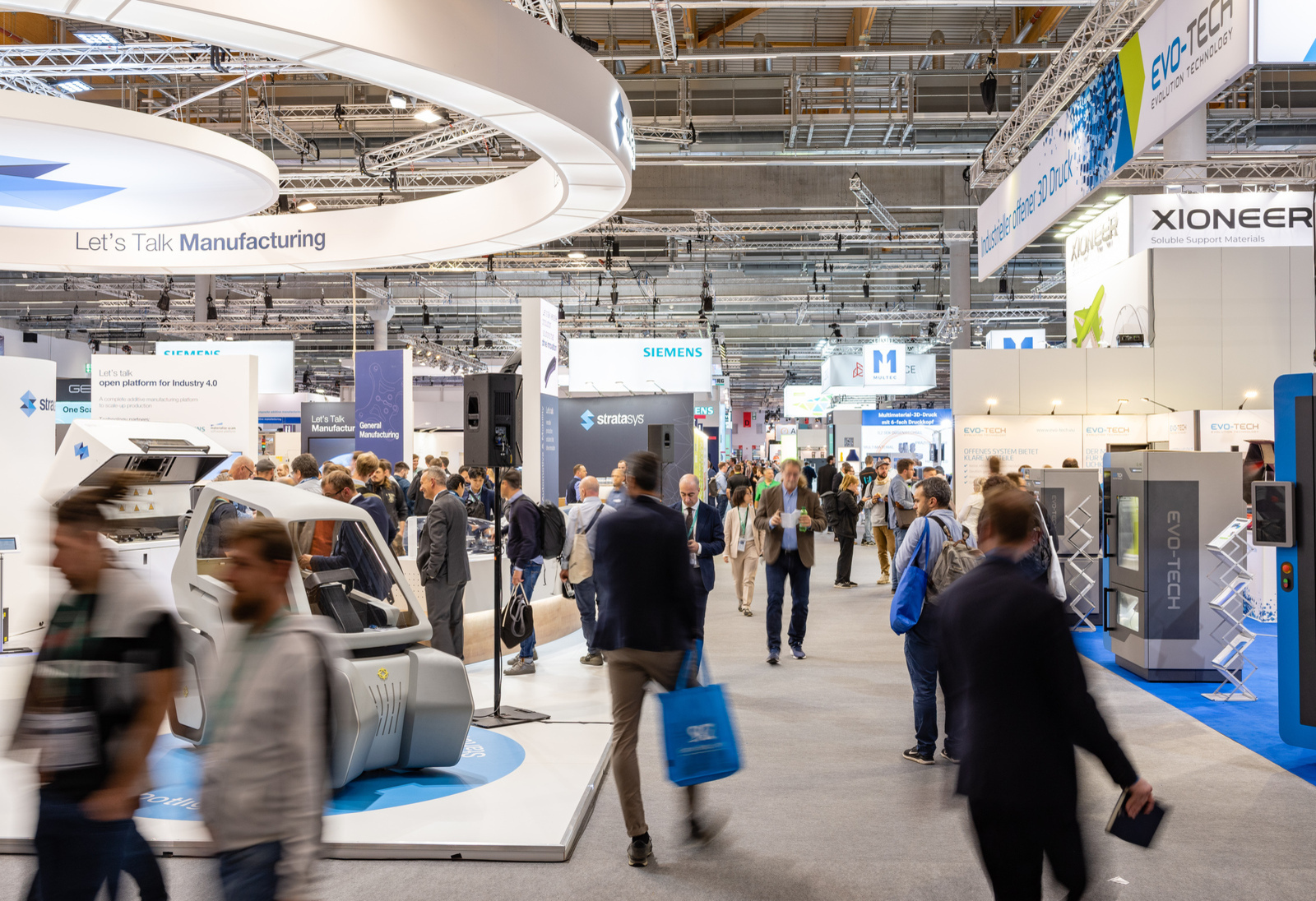 The continued momentum and confident mood of the AM industry are reflected in Formnext's outstanding registration figures. The AM world's movers and shakers who have already registered to exhibit at the in-person event include companies such as 3D Systems, Additive Industries, Arburg, BigRep, Carbon, DMG Mori, Dyemansion, Dyndrite, EOS, EPlus, Farsoon, Formlabs, GE Additive, GKN Sinter Metals Components, Hage 3D, Hexagon, HP, Keyence, Markforged, Massivit, Nexa3D, Open Mind, Prima Additive, Renishaw, Ricoh, Roboze, Rösler, Sandvik Additive Manufacturing, Shining 3D, Siemens, Sisma, SLM Solutions, Stratasys, Trumpf, Velo3D, Voxeljet, and Xjet. In addition, numerous new companies as well as renowned international groups along the entire process chain will showcase what they do, including BASF, Bosch, Evonik, Höganäs, Linde, Nikon, Oerlikon, and Praxair. Contract manufacturers specializing in 3D Printing are often the entry point for users into additive manufacturing. So far, FKM Sintertechnik, Jabil, Materialise, Promod Prototypenzentrum, and Quickparts have already registered.
"The entire industry is developing at a breathtaking pace and offers enormous growth opportunities, both for established companies as well as for start-ups and SMEs that are discovering Additive Manufacturing for themselves," says Sascha F. Wenzler, Vice President Formnext at event organizer Mesago Messe Frankfurt GmbH. "The number of suppliers using Formnext to successfully establish and expand their offerings around Additive Manufacturing and along the process chain is growing all the time."
Hub for Additive Manufacturing
Formnext is so much more than a trade fair. The brand also offers a wide range of services beyond the show floor. In addition to the latest news from the industry, the quarterly Formnext Magazine features focused market reports and exciting interviews with experts from the AM sector. Supplemented by the Formnext Newsroom with articles from selected trade media, this is the portal where interested professionals can find out about everything going on in the industry. Formnext.TV reports live from the trade fair and also provides inspiring and entertaining reports throughout the year. As a compact reference book for the wide array of additive technologies, the AM Field Guide offers a helpful introduction and outlines the essential features of individual AM processes. In addition, the highly successful Discover3Dprinting seminars are a valuable opportunity for those considering adding industrial 3D Printing to their production portfolio.
"The AM industry is innovative, and developments are moving so fast that ongoing discussion is vital," explains Wenzler. "By incorporating additive technologies into the design and construction of components and products, we can identify more and more profitable Additive Manufacturing applications. A lively and active industry dialog accelerates this process."
With its various media and formats, Formnext is aimed at a broad audience from a wide range of industries and is developing into a hub for everything relating to the Additive Manufacturing industry. "We organize highly specialized technology trade fairs and therefore know the various stakeholders in our industries very well," explains Petra Haarburger, President at Mesago Messe Frankfurt. "With events like Formnext, we fulfill the mission of bringing together the key stakeholders to sustainably connect technology, business, and community. By offering additional formats, we underline our determination to accomplish this goal on a year-round basis and support the AM sector as a specialist partner in addition to the trade fair."
In the future, Formnext intends to expand its content even further and thus inspire many more users to harness the opportunities of Additive Manufacturing.
An improved conference design
At the same time, Formnext has also refined the way its conferencing program is organized. For the first time, this year's conference program will be held across three different stages in the exhibition halls. The different focus areas cover key AM trends and applications as well as exhibitors' technologies and innovations to provide a convenient and efficient way to help visitors to find the product or service they are looking for. This will enable Formnext to further promote important dialog between technology providers and users and make the content publicly available to all stakeholders in the halls.
The Industry Stage focuses on topical, seminal issues such as sustainability and digitization. However, the agenda also includes new business opportunities as well as valuable insights into specific areas such as the start-up and funding world. The industry stage program, with its focus on panel discussions and interviews, will be broadcast live on Formnext.TV.
On each day of the trade show, the application stage will showcase a variety of exciting applications from different industries - such as mechanical and plant engineering, the automotive industry, aerospace, medical technology, electrical engineering, tool and die making, and automation. This will shed light on the entire process chain for each industry.
Innovations from Formnext exhibitors are shown on the technology stage. On each day of the show, there will be a morning and afternoon session in which innovations from the fields of materials, pre-processing, AM production, and post-processing will be presented and discussed.
The call for speakers for the conference program is expected to start at the beginning of April.
For more information, see formnext.com
Background information on Formnext 
Formnext is the hub for Additive Manufacturing, industrial 3D Printing and the next generation of intelligent manufacturing solutions. In addition to the annual highlight, the expo in Frankfurt/Germany, we provide our clients worldwide with a variety of relevant updates, insights and events around Additive Manufacturing (AM) as well as the related technologies along the entire process chains. Formnext is organized by Mesago Messe Frankfurt GmbH (formnext.com).
About Mesago Messe Frankfurt
Mesago, founded in 1982 and located in Stuttgart, specializes in exhibitions and conferences on various topics of technology. The company belongs to the Messe Frankfurt Group. Mesago operates internationally and is not tied to a specific venue. With around 150 members of staff Mesago organizes events for the benefit of more than 3,300 exhibitors and over 110,000 trade visitors, conference delegates and speakers from all over the world. Numerous trade associations, publishing houses, scientific institutes and universities work with Mesago closely as advisers, co-organizers and partners. (mesago.com)
Background information: Sustainable Messe Frankfurt
The Messe Frankfurt Group is one of the world's leading trade fair, congress and event organisers with their own exhibition grounds. With a workforce of some 2,200* people at its headquarters in Frankfurt am Main and in 28 subsidiaries, it organises events around the world. Group sales in financial year 2022 were around €450 million*. We serve our customers' business interests efficiently within the framework of our Fairs & Events, Locations and Services business fields. One of Messe Frankfurt's key strengths is its powerful and closely knit global sales network, which covers around 180 countries in all regions of the world. Our comprehensive range of services – both onsite and online – ensures that customers worldwide enjoy consistently high quality and flexibility when planning, organising and running their events. We are using our digital expertise to develop new business models. The wide range of services includes renting exhibition grounds, trade fair construction and marketing, personnel and food services.
Sustainability is a central pillar of our corporate strategy. Here, we strike a healthy balance between ecological and economic interests, social responsibility and diversity.
For more information, please visit our website at: www.messefrankfurt.com/sustainability
With its headquarters in Frankfurt am Main, the company is owned by the City of Frankfurt (60 percent) and the State of Hesse (40 percent).
For more information, please visit our website at: www.messefrankfurt.com
* Preliminary figures for 2022
Background information on the Working Group Additive Manufacturing (Honorary Sponsor)
Within the Working Group Additive Manufacturing, about 200 companies and research institutes collaborate under the direction of the German industry federation VDMA. Here, plant engineers; component and material suppliers; industrial companies that work with metals and plastics; service providers in software, manufacturing, and processing; and numerous researchers all work toward the same goal: the industrialization of additive manufacturing techniques. (am.vdma.org)