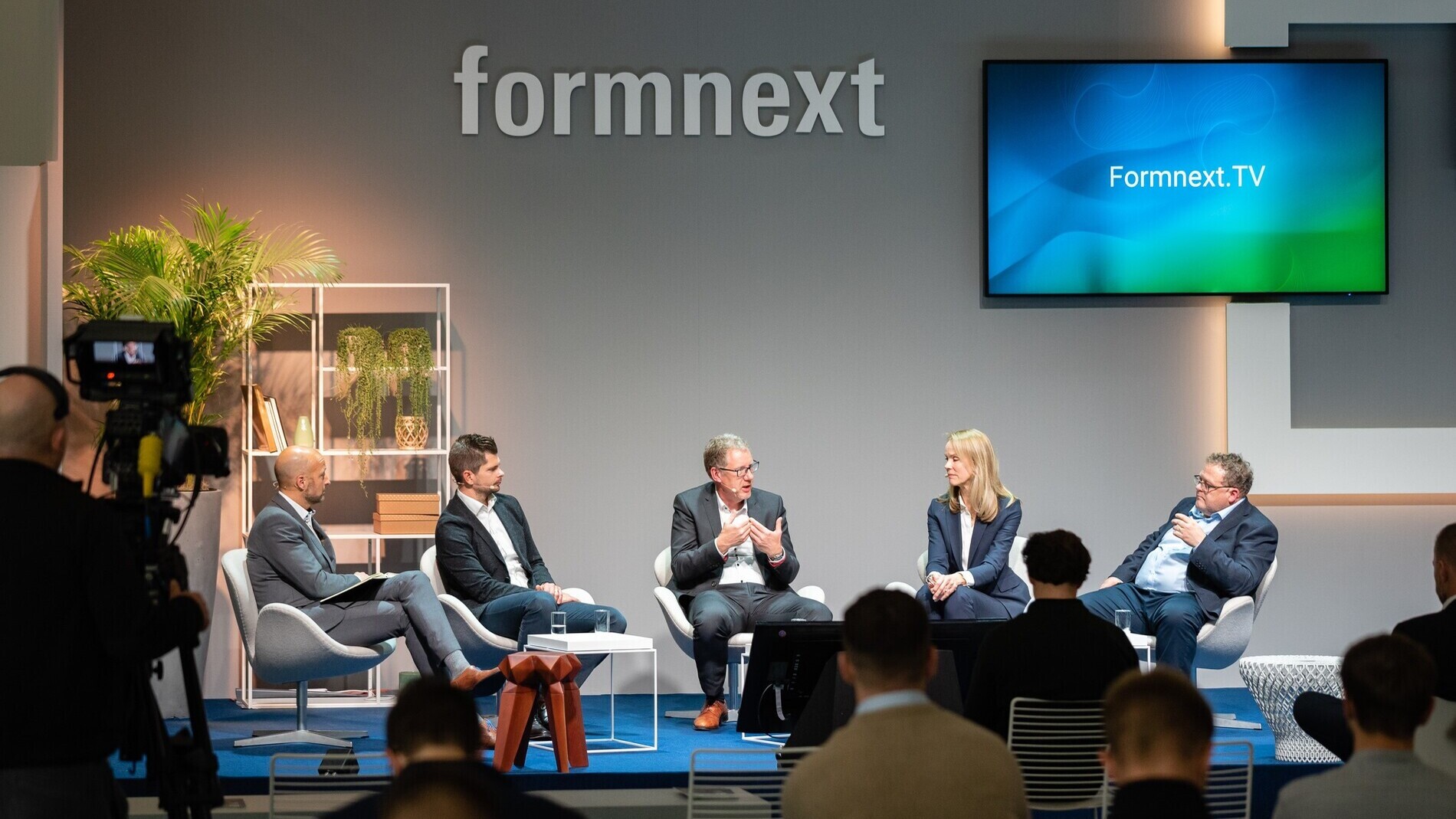 The different stages, which are freely accessible to all trade show visitors and stakeholders, provide an excellent insight and overview of the AM industry's most important issues. These include exciting applications from a range of industries such as medical technology, aerospace, and construction. In addition, exhibitors at Formnext will showcase the latest technologies. There will also be in-depth discussion and exploration of important overarching issues such as sustainability, skills shortages, and financing by leading experts and executives in presentations and panel discussions. 

A cross-industry and cross-technology approach
For Formnext, the new-style conferencing program is the next logical step in the evolution of the trade fair and will further promote the important exchange between technology suppliers and users. "This will allow us to better meet the industry demand we experienced last year, while creating even more space for discussion and transfer of knowledge and experience," explains Sascha F. Wenzler, Vice President Formnext at event organizer Mesago Messe Frankfurt GmbH. Across the different stages, the Formnext conference program will also present the entire process chain in all of the major industries and provide a complete horizontal and vertical representation of AM manufacturing. 
A focus on applications
On the Application Stage, exciting applications from various industries will be grouped into different areas, each with four 20-minute presentations. These will cover, amongst others, mechanical and plant engineering, the automotive industry, aerospace, medical technology, electrical engineering, tool and mold making, and automation. This will shed light on the entire process chain for each industry, from materials, pre-processing, and additive production to post-processing and quality assurance. 
Interdisciplinary exchange
The Industry Stage will focus on promoting interdisciplinary exchange between industry experts and sector representatives. Current, seminal issues, such as sustainability and digitization, will be presented in a keynote address, explored in greater depth in Expert Insights, and further debated during a panel discussion. The agenda also covers key AM topics such as intellectual property, DfAM (Design for AM), business opportunities, startups, and funding, as well as current issues of cross-sector importance, such as cyber security, skills shortages, and supply chain resilience. In addition, the Industry Stage will tackle questions around new emerging technologies such as bioprinting, as well as the 3D Printing of food and pharmaceuticals, and will have a role in bringing global business issues and Additive Manufacturing together.
An in-depth approach to the process chain and the AM offer
The dynamic development of generative technologies is also constantly leading to novel solutions from manufacturers and throughout the process chain. These will be showcased by Formnext exhibitors on the Technology Stage. On each day of the show, there will be a morning and afternoon session featuring innovations from the fields of materials, pre-processing, AM production, and post-processing. 
The Call for Speakers is now open. Proposals for papers can be submitted via the Call for Speakers form no later than 30 June 2023. The form, and further information, can be found at formnext.com.
Background information on Formnext  
Formnext is the hub for Additive Manufacturing, industrial 3D Printing, and the next generation of intelligent manufacturing solutions. In addition to the annual highlight, the expo in Frankfurt/Germany, we provide our clients worldwide with a variety of relevant updates, insights, and events around Additive Manufacturing (AM) as well as the related technologies along the entire process chains. Formnext is organized by Mesago Messe Frankfurt GmbH (formnext.com).
About Mesago Messe Frankfurt
Mesago, founded in 1982 and located in Stuttgart, specializes in exhibitions and conferences on various topics of technology. The company belongs to the Messe Frankfurt Group. Mesago operates internationally and is not tied to a specific venue. With around 150 members of staff, Mesago organizes events for the benefit of more than 3,300 exhibitors and over 110,000 trade visitors, conference delegates, and speakers from all over the world. Numerous trade associations, publishing houses, scientific institutes, and universities work closely with Mesago as advisers, co-organizers, and partners. (mesago.com)
Background information: Sustainable Messe Frankfurt 
The Messe Frankfurt Group is one of the world's leading trade fair, congress, and event organizers with their own exhibition grounds. With a workforce of 2,200* people at its headquarters in Frankfurt am Main and in 28 subsidiaries, it organizes events around the world. Group sales in financial year 2022 were around €450 million*. We serve our customers' business interests efficiently within the framework of our Fairs & Events, Locations, and Services business fields. One of Messe Frankfurt's key strengths is its powerful and closely knit global sales network, which covers around 180 countries in all regions of the world. Our comprehensive range of services, both onsite and online, ensures that customers worldwide enjoy consistently high quality and flexibility when planning, organizing, and running their events. We are using our digital expertise to develop new business models. The wide range of services includes renting exhibition grounds, trade fair construction and marketing, personnel, and food services. 
Sustainability is a central pillar of our corporate strategy. Here, we strike a healthy balance between ecological and economic interests, social responsibility, and diversity.
For more information, please visit our website at: www.messefrankfurt.com/sustainability
With its headquarters in Frankfurt am Main, the company is owned by the City of Frankfurt (60 percent) and the State of Hesse (40 percent). 
For more information, please visit our website at: www.messefrankfurt.com 
* Preliminary figures for 2022
Background information on the Working Group Additive Manufacturing (Honorary Sponsor)
Within the Working Group Additive Manufacturing, about 200 companies and research institutes collaborate under the direction of the German industry federation VDMA. Here, plant engineers; component and material suppliers; industrial metals and plastics companies; service providers in software, manufacturing, and processing; and numerous researchers all work toward the same goal: the industrialization of additive manufacturing techniques. (am.vdma.org)