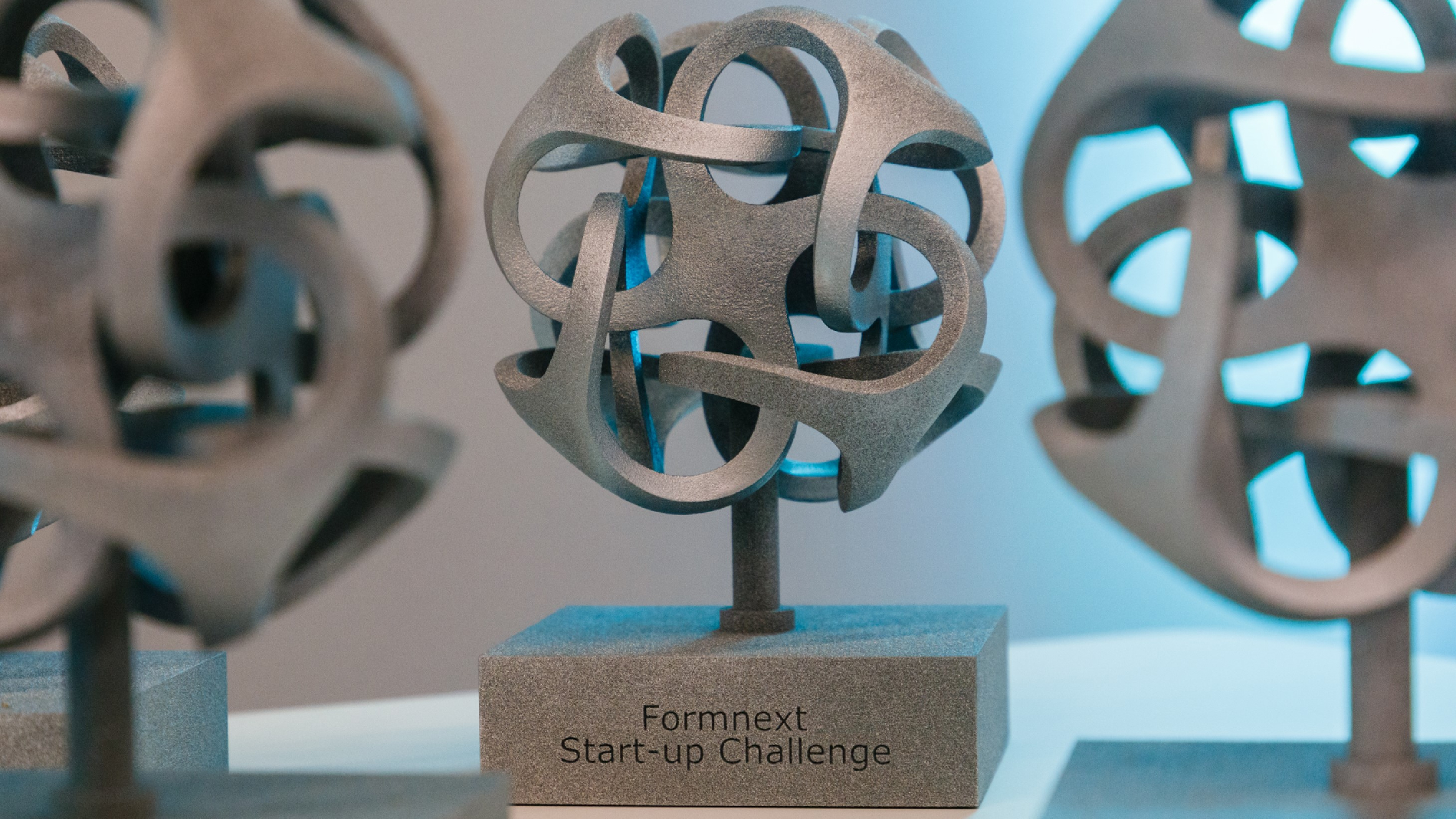 Thanks to the Start-up Challenge, the up-and-coming companies participating at Formnext will be given the ideal opportunity to expand their network, exchange ideas with experts from the AM industry, and find potential partners or investors. They will be offered a unique stage on which to present themselves and their innovations to the great and the good of the AM world. All five award-winning start-ups demonstrate highly advanced technological solutions and impress with the breadth of their technologies and potential applications. The fact that the winners hail from four different countries also reflects the great international relevance of the Formnext Start-up Challenge.
Endless Industries and Vitro3D have developed existing 3D Printing technologies (manufacturing of fiber-reinforced components and stereolithography), promising faster production speeds and higher component quality. With its Dragon slicing analysis software, Helio Additive also focuses on improving the printing process. Odapt has developed a customized baseplate for stoma patients, simplifying care while eliminating waste. Sustainability also plays an important role for Progresja New Materials - the Polish start-up aims to recycle titanium and use it to produce powder for Additive Manufacturing. The company also took home the AM Ventures Impact Award worth 5,000 euros, which was presented as part of the Formnext Start-up Challenge.
"The winners' wide-ranging solutions demonstrate the AM industry's huge potential for innovation and the versatility of the current and future applications of AM. They also show that this exciting technology can enable a wide range of innovative products and give us a powerful, practical tool for tackling current challenges such as climate change," says Sascha F. Wenzler, Vice President Formnext at trade fair organizer Mesago Messe Frankfurt GmbH.
The five winners will each receive a 3D-printed award, as well as an impressive exhibition and marketing package sponsored by Formnext and its partners. The winners will also participate in a pitch event on the Industry Stage at Formnext, broadcast live on Formnext.TV. The award is given to companies that are no more than five years old. The contest recognizes viable new business ideas, and the distinguished judging panel consists of prominent representatives from the realms of industry, science, media, and investment.
FORMNEXT START-UP CHALLENGE WINNERS
A new approach to printing with carbon fiber
With a new approach to the 3D Printing of continuous carbon fiber, Berlin-based startup Endless Industries aims to shake up this fast-growing market. These extremely strong components are predominantly used in automotive manufacture, as well as in mechanical engineering and other industries. Endless Industries does not intend to launch its own printer on the market and is instead focusing on the material it has developed itself, its own software, and a patented nozzle that processes carbon fibers and plastic simultaneously. With this solution, even large parts can be manufactured very effectively. As the start-up does not produce its own 3D printers, it wants to collaborate with established manufacturers. Co-founder Stephan Körber says this will allow it to, "deliver the best solution for the customer."
Thermal simulation for better printing results
Helio Additive, a startup founded in China in 2020 and now based in the U.S., will use its slicing analysis software to improve the 3D Printing of plastics and composite materials. The company's Dragon software is a thermal simulation of the Additive Manufacturing process: It slices 3D models into individual voxels and records their thermal progression. Here, Helio Additive targets the fact that different plastics, such as PC and PA, expand to different degrees when exposed to heat, thus delivering different results in the printing process. The Dragon software is designed to use physical calculations to prevent printing errors and enable faster, more reliable printing that can be scaled effectively.
Customized baseplate for stoma bags
Globally, 15 million people are unable to empty their bowels independently and therefore wear a stoma bag. This is attached to a base or skin protection plate, which is secured around the artificial opening. Spanish start-up Odapt has now unveiled a 3D-printed solution that can improve usage while significantly reducing waste. "Stool or urine leakage frequently occurs because the current pouches are not adapted to the different stoma shapes," explains the up-and-coming Barcelona-based company. Odapt has developed the first 3D-printed silicone baseplate, which promises to prevent leaks. Thanks to 3D Printing technology, the design can be adapted to any stoma shape and to any commercially available pouch.
EU-wide titanium recycling network
The Polish start-up Progresja New Materials specializes in the Europe-wide recycling of titanium. This is because, while the EU is home to a large proportion of additive titanium powder processors, the raw material often comes from China or Russia. According to Progresja New Materials, there is an extremely low end-of-life titanium recycling rate in the EU, something which the company wants to change as quickly as possible. Scrap titanium will be collected from across the EU and will undergo various processes such as cleaning, thermochemical treatment, mechanical processing, and atomization, resulting in a powder suitable for Additive Manufacturing. The company is currently on the brink of launching large-scale production. To this end, a network of titanium recycling centers will be established throughout the EU at a later date, located near aerospace industry centers.
Fast volumetric 3D Printing
US start-up Vitro3D has developed a volumetric Additive Manufacturing technology that aims to impress with high speed and other features. Vitro3D processes a wide range of materials, including highly viscous resins, and can thus combine different material properties in one part. The cartridge-based printing technology also eliminates the need for support structures. The start-up from Boulder, Colorado plans to focus initially on the dental and electronics markets. It will enable the rapid, direct printing of aligners and allow electronics manufacturers to offer more complex PCBs without the need for new tooling.
All the winners will showcase their innovations at their exhibition booths and present them at the Formnext Pitchnext event on Tuesday 7 November 2023. Further information is available at formnext.com/startup.
Background information on Formnext
Formnext is the hub for Additive Manufacturing, industrial 3D Printing, and the next generation of intelligent manufacturing solutions. In addition to the annual highlight, the expo in Frankfurt/Germany, we provide our clients worldwide with a variety of relevant updates, insights, and events around Additive Manufacturing (AM) as well as the related technologies along the entire process chains. Formnext is organized by Mesago Messe Frankfurt GmbH (formnext.com).
About Mesago Messe Frankfurt
Mesago, founded in 1982 and located in Stuttgart, specializes in exhibitions and conferences on various topics of technology. The company belongs to the Messe Frankfurt Group. Mesago operates internationally and is not tied to a specific venue. With around 150 members of staff, Mesago organizes events for the benefit of more than 3,300 exhibitors and over 110,000 trade visitors, conference delegates, and speakers from all over the world. Numerous trade associations, publishing houses, scientific institutes, and universities work closely with Mesago as advisers, co-organizers, and partners. (mesago.com)
Background information on Messe Frankfurt
The Messe Frankfurt Group is one of the world's leading trade fair, congress, and event organizers with their own exhibition grounds. With a workforce of some 2,160 people at its headquarters in Frankfurt am Main and in 28 subsidiaries, it organises events around the world. Group sales in the financial year 2022 were around €454 million. We serve our customers' business interests efficiently within the framework of our Fairs & Events, Locations, and Services business fields. One of Messe Frankfurt's key strengths is its powerful and closely knit global sales network, which covers around 180 countries in all regions of the world. Our comprehensive range of services, both onsite and online, ensures that customers worldwide enjoy consistently high quality and flexibility when planning, organizing, and running their events. We are using our digital expertise to develop new business models. The wide range of services includes renting exhibition grounds, trade fair construction and marketing, personnel, and food services.
Sustainability is a central pillar of our corporate strategy. Here, we strike a healthy balance between ecological and economic interests, social responsibility, and diversity.
For more information, please visit our website at: www.messefrankfurt.com/sustainability
With its headquarters in Frankfurt am Main, the company is owned by the City of Frankfurt (60 percent) and the State of Hesse (40 percent).
For more information, please visit our website at: www.messefrankfurt.com
Background information on the Additive Manufacturing Working Group (Honorary Sponsor)
Within the Additive Manufacturing Working Group, about 200 companies and research institutes collaborate under the direction of the German industry federation VDMA. Here, plant engineers; component and material suppliers; industrial metals and plastics companies; service providers in software, manufacturing, and processing; and numerous researchers all work toward the same goal: the industrialization of additive manufacturing techniques. (am.vdma.org)
Downloads and additional information