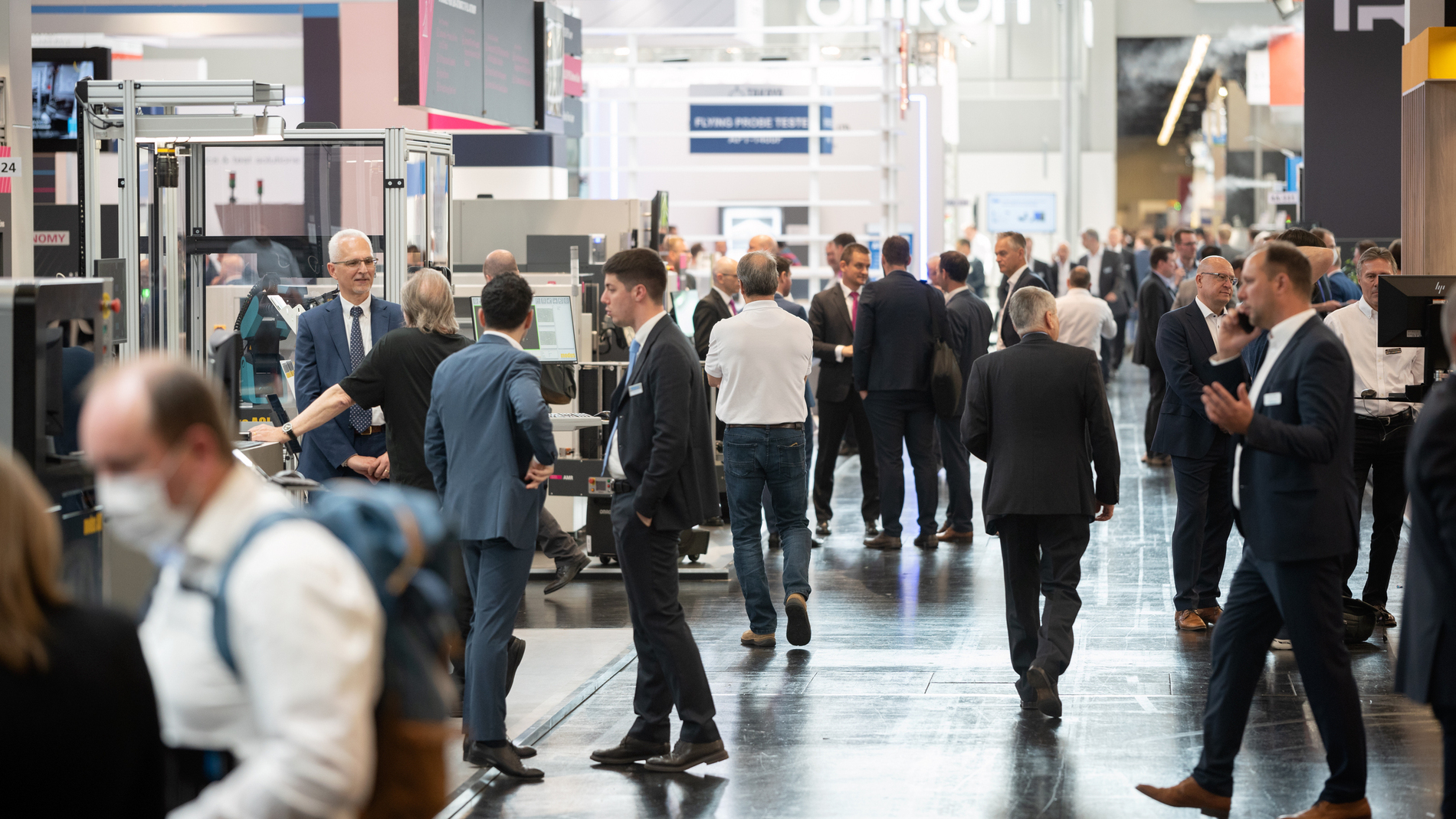 In a unique atmosphere, visitors can experience innovations and products up close along the entire value chain as well as gain valuable insights into the industry. 
Platform for inspiration and networking

True to the motto: "Driving Manufacturing forward", the SMTconnect 2023 offers, in addition to various opportunities for technical discussions and information exchange, special highlight topics at the trade fair. These include for example, sustainability, obsolescence management as well as AI in electronics manufacturing. The exhibitors at this year's SMTconnect are already looking forward to interesting customer discussions and to presenting their solutions. On board are ASYS, Ersa, Essemtec, FUJI, JUKI, Panasonic, SMT Wertheim and Viscom, among many others.
Forum program with cutting-edge topics
A fixed component at the SMTconnect this year as well: the diverse and expert forum program with panel discussions, product presentations and company presentations. Special insights into top topics will be offered, among others: 
Exclusive hotspot: the "Future Packaging" production line
This year, the "Future Packaging" production line of the Fraunhofer Institute for Reliability and Microintegration (IZM) is once again a proven and exclusive hotspot at the SMTconnect. It maps the entire assembly process with subsequent test procedures. The focus in 2023 will be on "Trust the Line" - Competitiveness through Trust, Sustainable Tool and Supply Chain. Visitors can take part in live guided tours with commentary every day at 10 a,m., 1 p.m. or 3 p.m. In 45 minutes, technical know-how as well as insights into innovations and trends will be provided.
Other attractions: The special showcase area EMS Park ...
The EMS Park special display area also deals with the topic of supply chains. Here, visitors will meet partners from the Electronic Manufacturing Services sector. With impulse and best practice presentations, this special showcase demonstrates the advantages of close cooperation between EMS service providers and OEMs for both sides and creates space for personal exchange. Participating EMS companies include Assel, Elhurt and Coronex. Hot topics at the EMS Speakers Corner include Luminovo GmbH's "Electronics made easy - What OEMs and EMS can learn from each other" by Sebastian Schaal and Elhurt EMS's "The power of trust and dedication - Elhurt EMS way of navigating through components shortage reality".
... and "PCB meets Components"
In addition to the EMS Park, the special show area "PCB meets Components" presents exhibitors around the topic of PCBs, components and materials, e.g. Würth Elektronik, The German Electronics Design & Manufacture Association and Piciesse Elettronica Srl. Visitors have the opportunity to find tailor-made solutions as well as products for their questions and, thanks to the thematic concentration on the action area, the right contact persons in a short time.
IPC hand soldering competition: experience practical expertise firsthand
This year, the hand soldering competition at the SMTconnect will once again bridge the gap between theory and practice. Organized by the IPC - Association Connecting Electronics Industries, soldering professionals and young professionals will put their expertise to the test. They will compete against each other in the hand soldering of complex printed circuit boards and will be judged primarily on speed and precision.
Further information can be found at: ww.smtconnect.com.
About Mesago Messe Frankfurt
Mesago, founded in 1982 and located in Stuttgart, specializes in exhibitions and conferences on various topics of technology. The company belongs to the Messe Frankfurt Group. Mesago operates internationally and is not tied to a specific venue. With around 150 members of staff Mesago organizes events for the benefit of more than 3,300 exhibitors and over 110,000 trade visitors, conference delegates and speakers from all over the world. Numerous trade associations, publishing houses, scientific institutes and universities work with Mesago closely as advisers, co-organizers and partners. (mesago.com)
Background information: Sustainable Messe Frankfurt
The Messe Frankfurt Group is one of the world's leading trade fair, congress and event organisers with their own exhibition grounds. With a workforce of some 2,200* people at its headquarters in Frankfurt am Main and in 28 subsidiaries, it organises events around the world. Group sales in financial year 2022 were around €450 million*. We serve our customers' business interests efficiently within the framework of our Fairs & Events, Locations and Services business fields. One of Messe Frankfurt's key strengths is its powerful and closely knit global sales network, which covers around 180 countries in all regions of the world. Our comprehensive range of services – both onsite and online – ensures that customers worldwide enjoy consistently high quality and flexibility when planning, organising and running their events. We are using our digital expertise to develop new business models. The wide range of services includes renting exhibition grounds, trade fair construction and marketing, personnel and food services.
Sustainability is a central pillar of our corporate strategy. Here, we strike a healthy balance between ecological and economic interests, social responsibility and diversity.
For more information, please visit our website at: www.messefrankfurt.com/sustainability
With its headquarters in Frankfurt am Main, the company is owned by the City of Frankfurt (60 percent) and the State of Hesse (40 percent).
For more information, please visit our website at: www.messefrankfurt.com
* Preliminary figures for 2022